Best Pricing? – Call Toll Free 1-866-993-6243 (why?)


Retail Price $85

Wholesale price $69 (free shipping available)


Loyalty Price $55/month

Ask For Free Shipping

on All Phone Orders
MAX ATP Fuels Your Body. Fights Fatigue and Free Radical Damage.
Would you rather improve your performance with a potentially harmful dose of stimulants for a short term boost or would you rather naturally support your body's own production of ATP while replenishing your energy levels and fighting the cellular damage caused by free radicals?  If you choose energy, recovery and  health- your choice is clear.
What is MAX ATP?
Max ATP is a true energy and performance drink.  It provides your body with a host of  Vitamins and nutrients, including; Ribose, N-acetyl- L-carnitine, RiboCeine,Green Tea Extract, Rhodiola Rosea, Quercetin,, CoEnzyme Q10,  B Vitamins, Magnesium, Copper and Chromium.  (Read More)

What is ATP?
ATP (adenosine triphosphate) is a naturally produced organic compound that's made up of three different phosphate groups and adenosine (which includes ribose- a sugar).(Read More) 
What Does  Max ATP Do?
MAX ATP provides the fuel for your body to produce ATP

It helps your body sustain energy production and fight fatigue

It clears cellular waste – known as free radicals

It boosts levels of ATP in your muscle tissue including your vital heart muscles

It helps your body convert food into energy

Supports physical energy, mental alertness and vitality

Helps you achieve greater endurance, increased stamina and a faster post workout  recovery

Promotes the production of glutathione

How is MAX ATP Different from Other Energy Drinks on the Market Today?
In every way that matters! Max ATP has nothing in common with the energy drinks sold today.
Those products are loaded with caffeine and sugars and deliver a concentration of stimulants to the body that are becoming of more concern to health professionals and consumers alike.  Even the FDA and Health Canada are starting to look at the claims that are implicating some of the most popular energy drinks with a host of adverse affects that include things like heart palpitations,irreversible tooth enamel damage and even death from caffeine toxicity. At best, energy drinks deliver a spike of stimulation followed by even greater fatigue as your blood sugar levels vacillate all over the the place.
In contrast MAX ATP  has been certified drug free by the BSGC which offers industry leading supplement certification and testing services for Elite Athletes who need to avoid banned and unsafe substances.
Max ATP provides your body with real nutrient based sustained energy to support your body's natural production of ATP and sustain the health of your energy producing cells.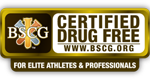 Call 1 866-993-6243 Toll Free or order online
Free Shipping on All Phone Orders